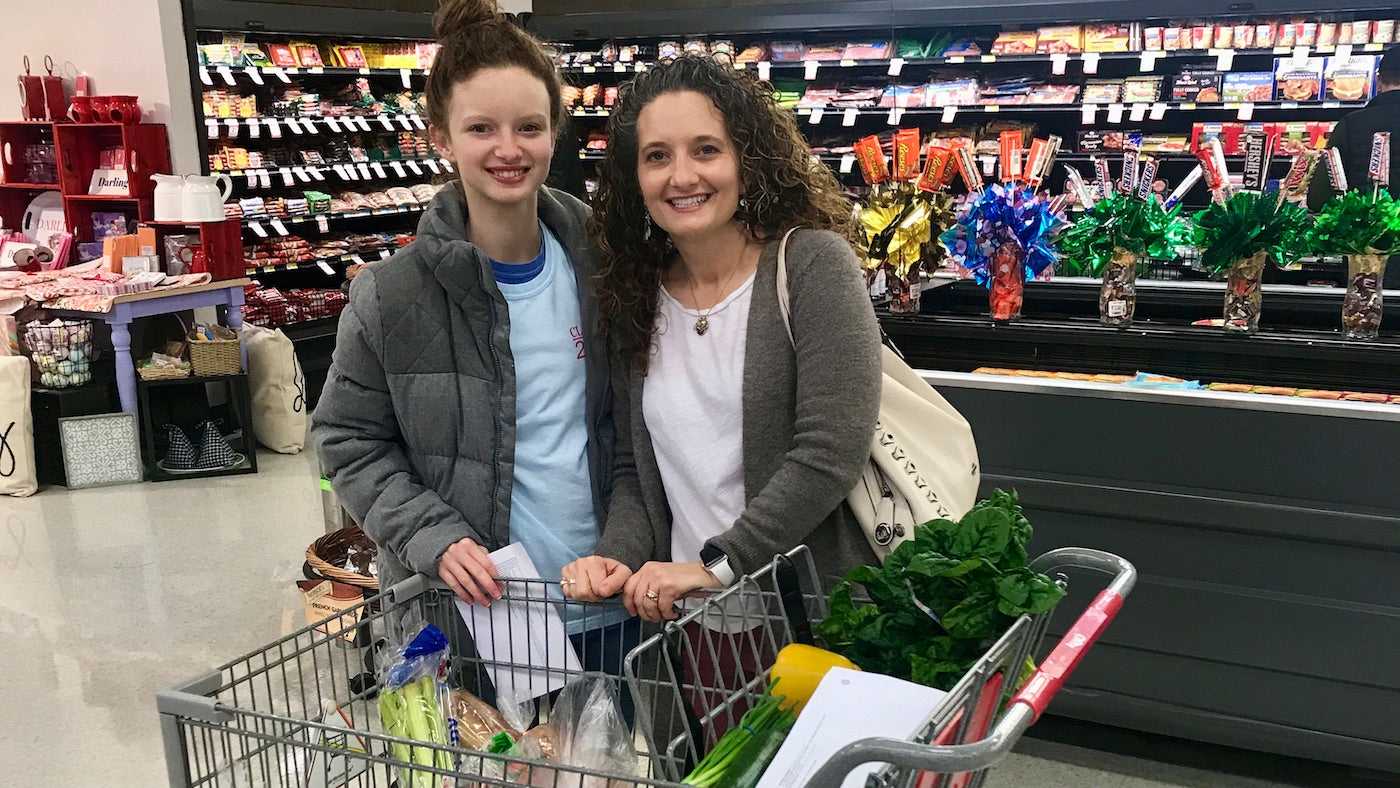 Book 1: Grocery Girl
Life is messy. It's scary and it's hard and it's painful. And every bit of it is worth the risk because love is so much more than any one of those difficult emotions. It's more than all of them put together. That kind of love makes every day a little brighter. It makes colors more brilliant and laughter more contagious. It's wonderful, and it's all-encompassing, and it's a gift.

- Maree, Grocery Girl Chapter 27 by Virginia'dele Smith
In 2011, our family participated in the Susan G. Komen Race for the Cure in Waco, Texas. 
We enjoyed the pre-race festivities, then Coach and SonShine ran the race while Angel Girl and I walked and talked toward the back of the bunch. Along the course, I noticed several of SonShine's 7th grade classmates handing out cups at the water stations, all girls and their moms. They were wearing light blue t-shirts printed with "Moms and Daughters serving their communities together."
I was intrigued! The next week, I reached out to one of the moms we'd seen at the event to ask for more information.
It turned out to be National Charity League, a mother-daughter service organization for students in grades 7-12.
Angel Girl was only in the 5th grade. So, I set an alarm in my phone for 18 months in the future. I felt sure that we were meant to join NCL, to spend precious time together while fostering a servant's heart and sense of philanthropy in my sweet child.
Two years later, Angel Girl and I were official members, and we immediately discovered that we were especially drawn to projects focusing on food insecurity.
Fast forward another four years, and Angel Girl was 16 years old, we were living in Tulsa, Oklahoma, and one our very favorite philanthropy partners was Youth Services of Tulsa.
One of the ways that our NCL chapter supported YST was a weekly delivery of fresh fruit for the youth shelter. On Monday mornings I would run to the local grocery store to select 90 pieces of whatever was in-season…apples, oranges, bananas, peaches, plums, and even pears.
I would leave the fruit in Angel Girl's car at her high school, and after classes that afternoon, she would drop off the delivery for the kids at YST to enjoy throughout the week.
It was a great system - a small task, but a meaningful gift.
Interestingly, when I arrived to shop, there was a fire engine parked outside the grocery store almost every Monday morning. The writer's part of my imagination envisioned a sweet and kind young woman and a stoic, yet hot fireman noticing one another in the produce aisle – a real meet cute scenario.
The story wouldn't leave me alone. When I tossed and turned at night, I clearly saw their story arc, the internal and external conflicts, and of course, their happy ending. I pictured the small town where they lived in my head, and I fell in love with their friends and family.
I had to write their romance.
On another day, I'll tell you about the ups and downs of that process. For now, I'll leave you with this introduction and a link to order my very first novel: Grocery Girl.
I hope you enjoy getting to know Maree and Rhys; I think you will feel empathy for their losses and excitement for their wins. And I would love to hear your thoughts on the story through a review or an email!
With love and hugs,
Become A Green Hills Insider
Sign up to gain access to our exclusive Green Hills Facebook group and email newsletter.
Interact with other Green Hills residents, engage in fun activities, join town hall meetings, and be the first to learn secrets about the Green Hills community!