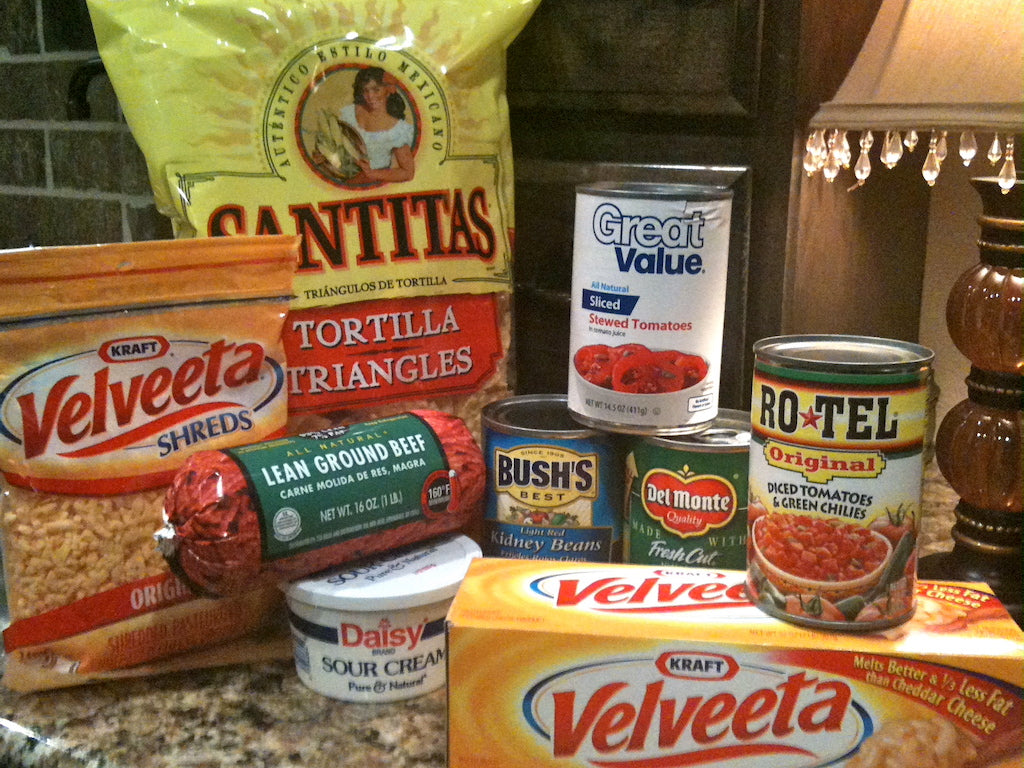 Mexican Cheese Soup
Only the pure in heart can make a good soup.

- Ludwig van Beethoven
I found this recipe in a booklet of perforated recipe cards published by Crock Pot.  I've hunted and hunted across the Internet to see if they have it linked somewhere, and since I can't find it anywhere, I'm hoping it's okay that I'm sharing with you all.
It is one of our favorites, especially on a crisp, cold evening because it is hot and filling, and as Coach says, "It sticks to your ribs!"
You can tell by the grease stains that this one has earned its kitchen stripes…
Ingredients:
1 pound processed cheese, cubed
1 pound ground beef, cooked and drained
1 can whole kernel corn, undrained
1 can kidney beans, undrained
1 can diced tomatoes with green chilies, undrained
1 can stewed tomatoes, undrained
1 envelope taco seasoning
1 jalapeno pepper, seeded and diced (optional)
Garnish: sour cream, grated cheese, and tortilla chips

Instructions:
Spray inside of slow cooker with non-stick cooking spray.
Combine all ingredients and stir together.
Cover and cook on LOW for 4 to 5 hours or on HIGH for 3 hours.
Serve with a spoonful of sour cream, a little extra grated cheese, and a handful of tortilla chips.
So easy! So good!
With love and hugs,
Become A Green Hills Insider
Sign up to gain access to our exclusive Green Hills Facebook group and email newsletter.
Interact with other Green Hills residents, engage in fun activities, join town hall meetings, and be the first to learn secrets about the Green Hills community!