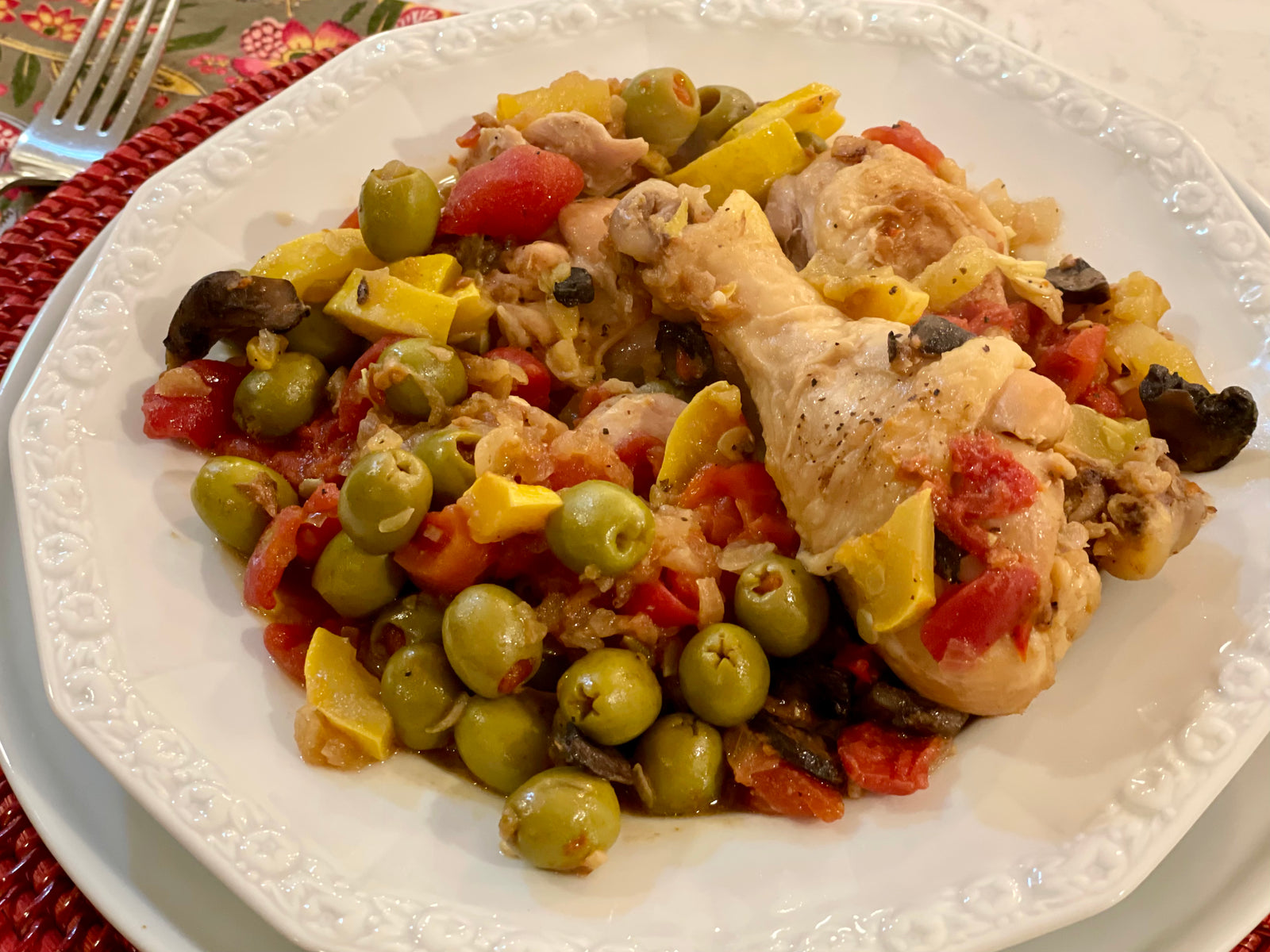 Olive & Chicken Cacciatore
I got chicken cacciatore for you, sweetheart.

- The Godfather (Francis Ford Coppola, 1972)
This dinner recipe is a triple play of greatness: a one-pot wonder, extremely healthy, and very delicious!
Ingredients:
olive oil
1 medium onion, diced
2 cloves garlic, minced
1.5 – 2 pounds chicken legs or thighs
0.5 red bell pepper, chopped
1 yellow squash, chopped
4 oz. mushrooms, sliced
4 oz. jar green olives
14.5 oz. can diced tomatoes
chicken broth
salt and pepper
Instructions:
Drizzle enough olive oil into a large skillet to lightly coat the bottom.
Heat oil over medium heat.
Sauté onions and garlic in the oil for 2 to 3 minutes or until onion begins to caramelize lightly.
Add chicken to the skillet, seasoning with salt and pepper. Sear chicken for 3 to 5 minutes on each side.
Add bell pepper, squash, mushrooms, olives, and diced tomatoes. Stir gently.
Pour enough chicken broth over mixture to cover the chicken and vegetables.
Bring skillet to a boil over high heat for 5 minutes.
Reduce heat, cover with a lid, and simmer for 40 minutes or until internal temperature of the chicken reaches 165°F.
I like to serve Olive & Chicken Cacciatore with potatoes, pasta, or rice. Toasted Hawaiian rolls on the side are the perfect garnish.
Enjoy!!
With love and hugs,
PS: if you haven't subscribed to "The Gazette" please submit your info to be added to my mailing list.
Become A Green Hills Insider
Sign up to gain access to our exclusive Green Hills Facebook group and email newsletter.
Interact with other Green Hills residents, engage in fun activities, join town hall meetings, and be the first to learn secrets about the Green Hills community!