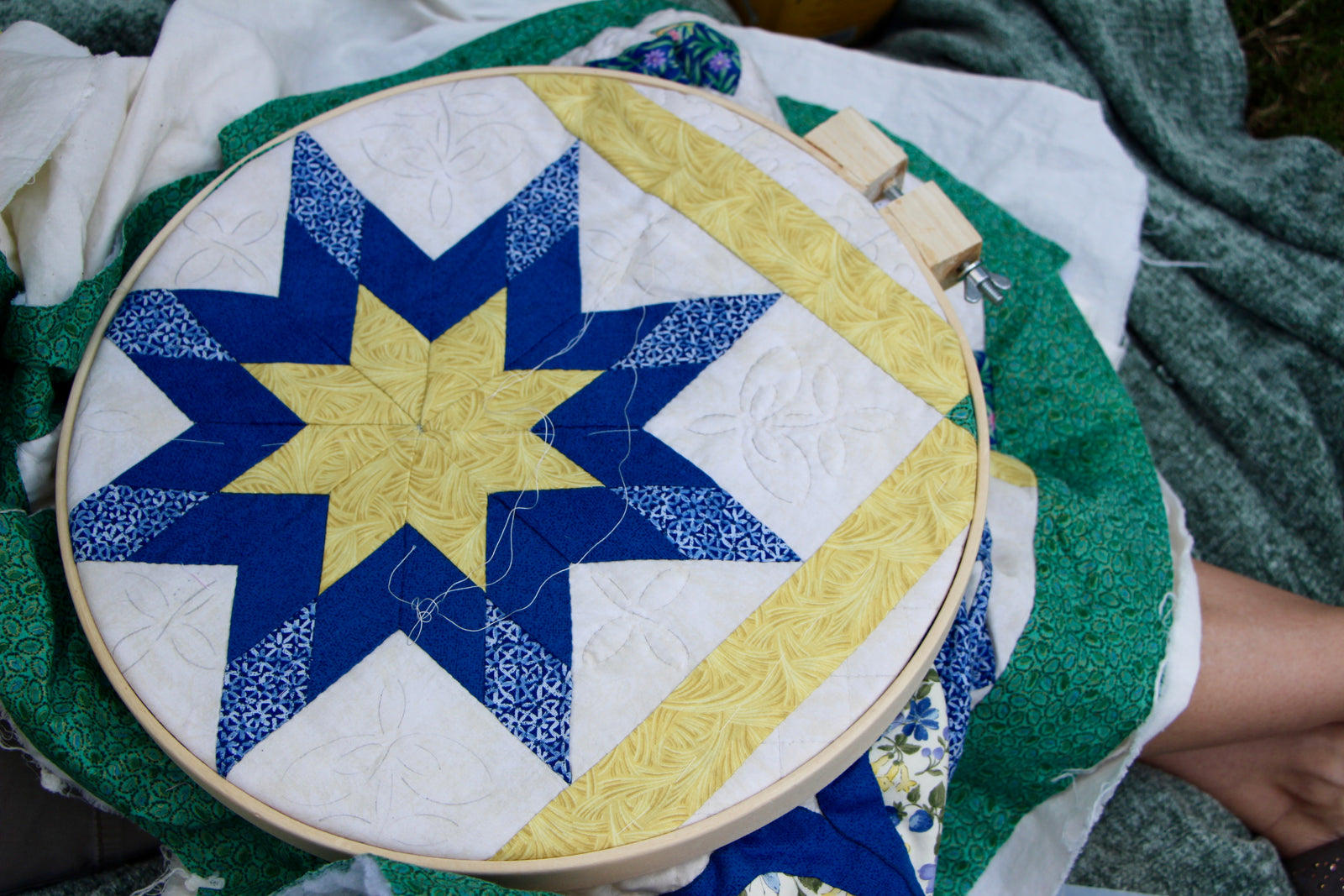 Quilt #1: Momma's Hands
The future of a nation lies in the hands of mothers.

- Honore de Balzac
When I signed up for my first beginning quilt class, I had no idea that quilting would eventually be such a huge part of my life. Between my own quilt projects, my philanthropic work through Quilt 2 End ALZ, Inc., and writing love stories that involve quilts, quilting, and quilters, I spend a lot of my week around quilts.
While I truly hope you gain enjoyment from seeing my quilts, I have to be honest and tell you that I'm sharing them on the blog for myself.
Although a few of my finished quilts have stayed home with me and Coach, the majority of my projects have been gifts for someone else. Since they are no longer in my possession, this website is like a digital scrapbook, a way for me to see the quilts and remember how special they are again and again.
I love every one of those quilts!
Each one has a unique and meaningful story.
Which patterns did I choose? Which fabrics did I select? What layout did I create? What prompted me to make that particular quilt when there are so many hundreds of thousands out there that I'd love to tackle? To whom was it given? And why?
They each tell a tale, and there is a piece of my heart and a dose of my love in every quilt that I create.
Today, I would like to tell you about the first quilt I ever made.
Momma's Hands
I call it this because on this one quilt (and only on this one) every part of the quilting process has been done by hand. In fact, when I started this quilt, I didn't own a sewing machine (and wouldn't for several more years).
My sweet SonShine had just be born. After a brief stay in the NICU, our pediatrician recommended that we keep him home until his two-month immunizations. About a month into that time, my mom urged me to leave him home with her for an afternoon so that I could get out of the house for a few hours.
When I finally agreed, I wasn't even sure where to go, but somehow I ended up at the local quilt shop where we lived in Stephenville, Texas. I had been in the store many times as a child; my Grandma Syble was a crafter and often took me with her to shop for project supplies.
That particular day, the store was offering a four-week beginner class to create a sampler wall hanging. The timing was perfect because I could get it done while my SonShine was waiting those last few weeks to get his shots and begin exploring the world.
At least I thought I would have it done in those four weeks.
The joke was on me.
That was the summer of 1998, and as of today — January 3, 2022 — I still haven't finished that wall hanging.
To be fair, I did all the piecing on-time for each of the four class meetings. I did a great job of getting it basted (thankfully, as it's had to hold for two decades), and then I chose my quilting patterns to sew the top/batting/backing sandwich together.
And that's where I faltered.
I struggled to start quilting it because I was terrified of it not looking as beautiful as the image in my head. So I stalled. And then football season hit. 20+ times.
Miraculously, a few summers ago my handmade work-in-progress resurfaced at the bottom of a box of fabric when I was gathering possibilities for another quilt.
I decided it would be the perfect project to take on the plane when I have the opportunity to travel to games and conference meetings with Coach, so it's back in the lineup.
I still have about 1/3 of it left to quilt, but I am pleased to say that I can see a faint light at the end of the tunnel. I cram it in my carry-on bag quite often, and I get some stitching done here and there.
I am most proud that although I could have finished it in no time at all by tossing it on my sewing machine, I have continued to do every single stitch by hand. By my hands. Momma's hands.
I'll be sure to post more photos when it is completed and bound; until then, here are a few sneak peeks:
Thank you for indulging me!
With love and hugs,
Become A Green Hills Insider
Sign up to gain access to our exclusive Green Hills Facebook group and email newsletter.
Interact with other Green Hills residents, engage in fun activities, join town hall meetings, and be the first to learn secrets about the Green Hills community!