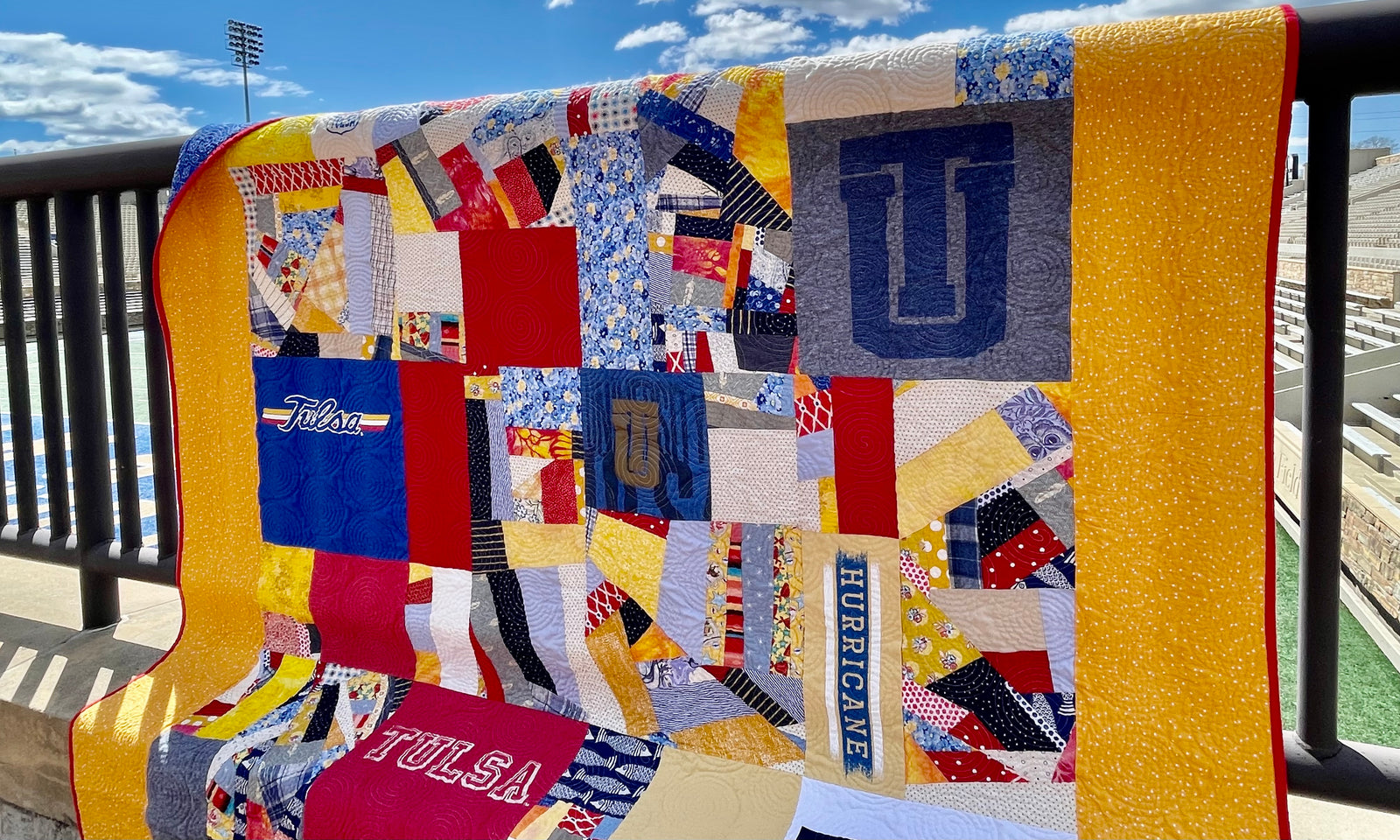 Quilt #47: Jazzy TU
It's not how much we give, but how much love we put into the giving.

Mother Teresa
My signature quilt design is a combination of pieced fabric blocks and t-shirts.
I call them Storytelling Tees because each of these projects — and all quilts, in my opinion — tell a tale of life, experiences, and important times.
They are always made with love. Lots and lots of love!
Stash Jazz by Carole Shaw
This modern quilt pattern is a fun play on improv quilting and a terrific stash buster!
I pieced it during an online workshop that Carole offered during the summer of 2020 when we were quarantining in our homes. It was a wonderful afternoon of connecting with fellow quilters all across the world; it was a timely reminder that we are not alone.
At the time, I didn't know when or how this quilt would be needed, but I felt like it was the perfect size for a stadium blanket, so I chose to make it a Tulsa Golden Hurricane quilt.
I raided my scrap tub for fabrics that offer a wide variety of blues, yellows, golds, whites, and naturals. I chose solids, stripes, geometrics, florals, footballs, dots, and squiggles. If it was anywhere close to my color scheme, it went in the pile.
The beauty of improv quilting is that there is no right or wrong, no rhyme or reason. To create improv blocks, all one does is sew.
Once these scrappy sets are put together, they are trimmed to the sizes laid out in the pattern instructions.
I decided to swap the large solid blocks in the pattern with TU t-shirts, of which I have plenty!
 I prepped the shirts, trimmed them to size, and everything was ready to assemble the topper.
The Blue & Gold Gala
Fast-forward almost two years...
That assembled topper and the backing fabric were still hanging in my sewing room, patiently awaiting their turn with Lucey (my long arm quilting machine).
When I was asked to donate an item to the first, and hopefully annual, Blue & Gold Gala to support our University of Tulsa student-athletes, I knew exactly what would be the perfect auction item: my forty-seventh quilt project called Jazzy TU.
I sandwiched the topper, the batting, and the backing and quilted them together using a spiral motif that resembles our Golden Hurricane mascot.
Next, I added binding, a strong solid red that frames the quilt perfectly.
I washed it, dried it, and took photos of it.
Jazzy TU was ready for her big night 🎉
The Perfect New Home
I've mentioned that every quilt has a story.
The most important part of this quilt's story is the wonderful home it went to at the end of the gala ❤️
When Coach and I moved our family to Tulsa seven years ago, my friend Laura was one of the very first people I met.
Our daughters are the same age and were both involved in National Charity League as well as cheerleading and attended the same school. On top of that, Laura's family are faithful fans of our University of Tulsa Golden Hurricane.
In the years since that first phone conversation, we have served on committees together, attended ball games together, and watched our girls grow up into extraordinary young women together. We have also watched our families' face the heartbreak of Alzheimer's disease and dementia together.
Watching Laura win the quilt that I had donated was wonderful, especially on the heels of a tough week that she'd endured with incredible strength and grace. She went home with the quilt, but I actually received the gift 🙏
Like I said, quilts are full of love and affection.
That's the story of this Storytelling Tee, Quilt #47: Jazzy TU — I hope you enjoy it as much as I do 🥰
With love and hugs,
Become A Green Hills Insider
Sign up to gain access to our exclusive Green Hills Facebook group and email newsletter.
Interact with other Green Hills residents, engage in fun activities, join town hall meetings, and be the first to learn secrets about the Green Hills community!