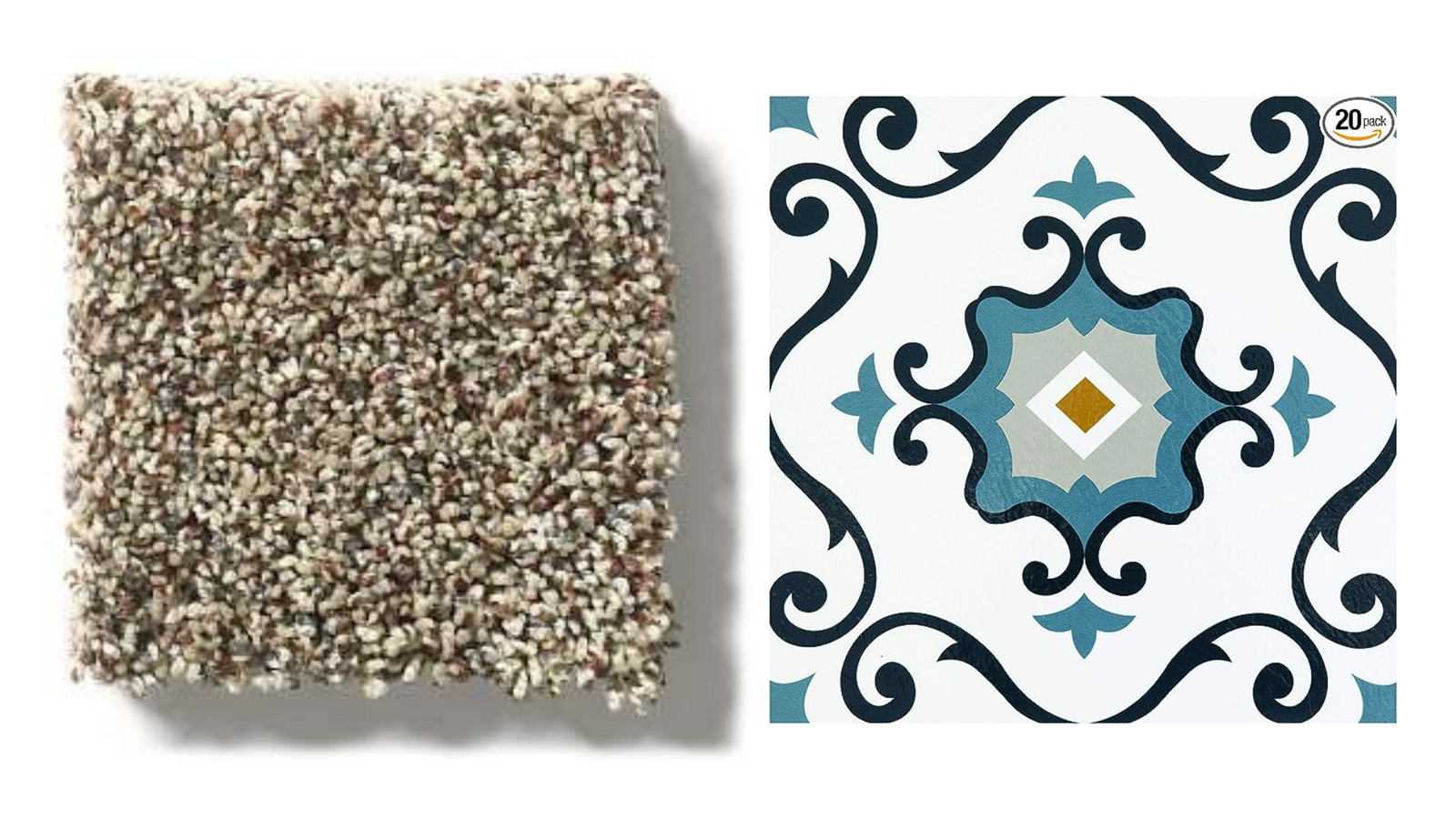 Setting Up the Studio — The Flooring
The loftier the building, the deeper must the foundation be laid.

- Thomas a Kempis
For the first time since I began quilting twenty-five years ago, I have dedicated sewing space in our new home ~ it's amazing!!
Sandwiched between two fabulous, walk-in attics that are perfect for storage, a large game room is transforming into my quilt studio. It's been a slow process — as has this entire move to Auburn — but I'm seeing light at the end of the tunnel, so I decided to share each step of the remodel here on my blog.
Step One: the Floor
As I mentioned on Instagram a few weeks ago, when we bought the Auburn house, the carpet throughout the house was a stunning and beautiful creamy white 😬 Let's just agree that three dogs, two kids, and a lot of football players are not a good fit for luscious but light-colored carpet. It's not ideal for a room with a longarm sewing machine, either, because Lucey (my APQS longarm) throws a lot of lint in the process of stitching quilt layers together.
So, I began the quilt studio remodel by selecting new carpet for the rest of the house and choosing an affordable and available hard-surface material for the sewing space.
I really like both!
A soft, brown-and-tan-based, short frieze carpet now covers the floors in all the bedrooms, our closets, and the upstairs hallway.  It's wonderfully soft to walk upon, and the variety of colors in the carpet loops adds a nice texture while pulling together the multitude of finishes between wood floors in the common spaces, khaki walls, the ivory crown moulding and trim, and the different fabrics of our furniture pieces and decor.
For the quilt studio, I spent weeks looking at flooring stores, big box stores, and online stores. But I struggled to find what I'd envisioned, and when I found things I did like, they wouldn't arrive for weeks, or months, or ever. In the end, I went with a peel and stick, "old school" vinyl that I found on Amazon.
I hired an installation crew to prep the floor and lay the tiles, so the end result has a very professional look.
And while the vinyl tile material is quite inexpensive, I think it's the perfect solution for a sewing room where easy clean-up is key.
The retro, mid century modern pattern is quite fun, shades of slate gray, navy blue, and vintage gold are very eye-catching, and the layout of the design is a tad bit elegant.
I'm very pleased with the outcome:
Next step: Create an accent wall with lots of WOW 🤩
Stay tuned!
With love and hugs,
Become A Green Hills Insider
Sign up to gain access to our exclusive Green Hills Facebook group and email newsletter.
Interact with other Green Hills residents, engage in fun activities, join town hall meetings, and be the first to learn secrets about the Green Hills community!