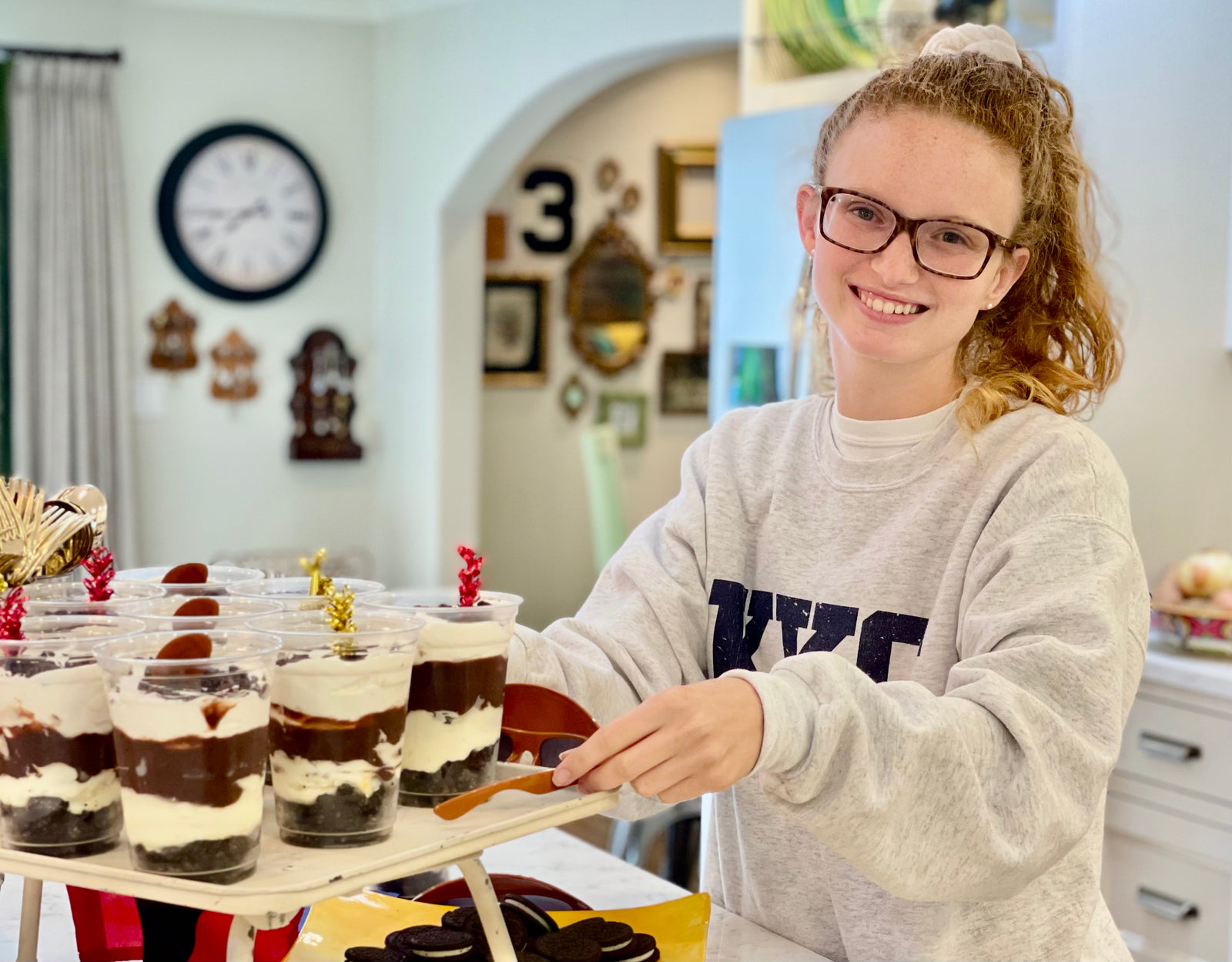 Halftime Parfaits
"He scored, he scored!" The crowd went wild.

Fireworks went off. A cannon boomed. The stands shook like an earthquake rattling the earth.

Maree, M'Kenzee, and Landry were hugging and jumping up and down. Rhys and Davis were high-fiving every fan within arm's reach. Janie Lyn was light-headed.

And she was exhausted. It had only been one half of one game, but she was completely and utterly worn out.

How many games were in a season? How did the players do it? How did their wives and girlfriends survive?

In the Trenches, Chapter 26 by Virginia'dele Smith
If you've made it to halftime, you deserve a treat!
These layered desserts are the perfect way to recharge for the second half 🏈
Leave them in the cooler until you're ready to eat, and the cool sweetness will taste like heaven...
Ingredients:
16 ounces cream cheese, softened
1/2 cup butter, softened
1 cup powdered sugar
2 large boxes chocolate pudding, prepared per box instructions
16 ounces Cool Whip
1 package Oreo cookies, crushed (reserve a little to sprinkle on top of the parfaits at the end)
Directions:
Mix cream cheese, butter, and powdered sugar in mixer on medium speed for about three minutes (or until fully blended) to make the cream filling, set aside.
Stir together the Cool Whip and the prepared pudding; place in refrigerator until lightly set.
In plastic cups, glass bowls, or clear mugs, place a layer of crushed Oreos.
Top the cookies with a layer of cream filling, using the back of a soup spoon to flatten the layer and spread evenly.
Top the cream filling with a layer of pudding mixture. Again, use a spoon to spread the layer.
Add another layer of cream filling.
Sprinkle extra Oreo cookie crumble on each parfait cup. You can also add a gummy worm "in the dirt" or place a decoration or cupcake pick on top.
Chill in the refrigerator for an hour.
Serve cold.
These sweet treats are cool and rich and a big hit every time I make them!
Enjoy 🥰
With love and hugs,
Become A Green Hills Insider
Sign up to gain access to our exclusive Green Hills Facebook group and email newsletter.
Interact with other Green Hills residents, engage in fun activities, join town hall meetings, and be the first to learn secrets about the Green Hills community!