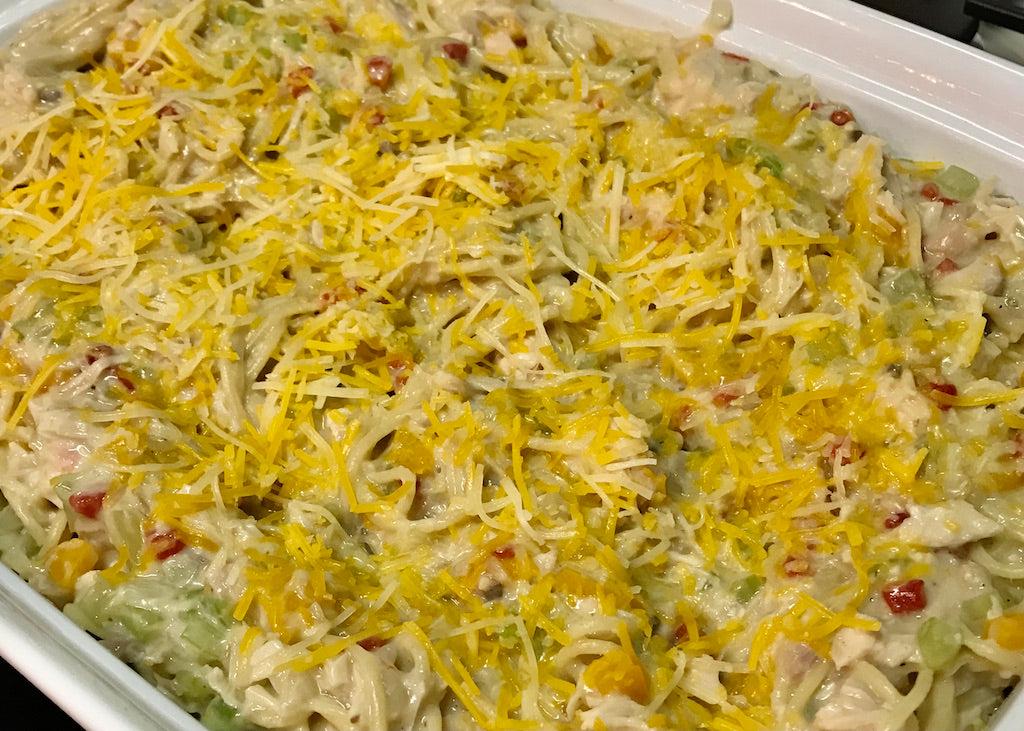 Nana's Chicken Spaghetti
Not seeing any other way forward, he simply dove into his chicken spaghetti.

Virginia'dele Smith, Grocery Girl Chapter 5
When Coach and I married in 1995, my mother-in-law filled out a stack of recipe cards with his favorite dishes. As a young wife, I truly appreciated the gesture — her passing the baton for me to provide for and take care of him just as he provides for and takes care of me. I was also very grateful for the recipes.
I have used her set of recipe cards so often over the years, that some of the cards are stained and creased while others I've put into clear sleeves to protect them from overuse…all signs of being well-loved!

Nana died from Alzheimer's disease on August 10, 2020. Now that she is gone, I treasure those cards in her handwriting even more, and I am tremendously grateful that I can share them with my children and someday their children in honor of a caring and devout wife and mother.

As I was writing Maree's love story in Book 1: Grocery Girl, one of those recipes — Nana's Chicken Spaghetti — came to mind as the perfect meal to provide the comfort and sense of home that both of our main characters craved.

Rhys thought it was quite delicious, and I think your family will, too.
Ingredients:
2 cups (or 2 cans) chopped, cooked chicken
1 c. chopped celery
1 bell pepper, chopped
1 c. chopped onion
2 cans cream of mushroom soup
1 can chicken broth
4 oz. chopped pimentos
12 oz. spaghetti cooked in broth
grated cheese (original recipe says Velveeta melts best)
salt and pepper
Instructions:
Saute celery, bell pepper, and onion in a small amount of oil.
Mix with soup.
Add chicken, pimentos, and spaghetti.
Season with salt and pepper to taste.
Place in 9×13 pan.
Sprinkle with grated cheese.
Bake at 350° until cheese melts.
I like to serve Nana's Chicken Spaghetti with fresh, steamed green beans and garlic toast.
My theory on this recipe is that – like all the very best recipes – it stands the test of time and taste because it is easy to make, scrumptious to eat, and very filling.
As I mentioned above, Nana wrote this card for me a long time ago. I have seen it nearly character-for-character in multiple places which leads me to believe that it has been present at many a Texas/Oklahoma church potluck over the past 100 or so years.
Needless to say, one can never go wrong with a recipe that has found a long life on the Church of Christ cookbook circuit!
I hope your family enjoys it as much as mine has over the years.
With love and hugs,
Become A Green Hills Insider
Sign up to gain access to our exclusive Green Hills Facebook group and email newsletter.
Interact with other Green Hills residents, engage in fun activities, join town hall meetings, and be the first to learn secrets about the Green Hills community!