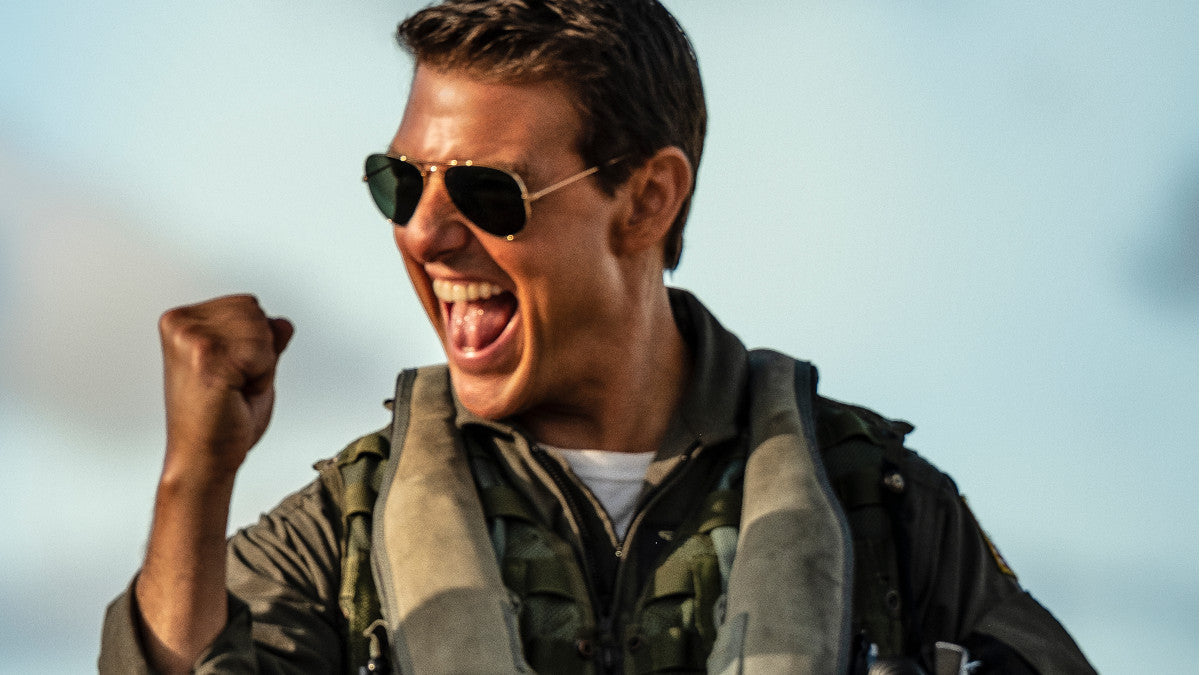 Top Gun: A Love Story
Yesterday — Memorial Day — my family went to the movie theater to see Top Gun: Maverick 🇺🇸
I promise not to ruin it for you, but I have to say it is really good!
The characters develop in a perfect continuation from the original movie, not an easy feat 36 years later. The aircraft maneuvers showcase our nation's fighter pilots, their incredible skill and talent, and the utter awesomeness of our military. The soundtrack will be an instant classic, and the story arc engages the audience from the opening scene.
Just like Max in my second novel, Book 2: In the Trenches, there are certain movies my husband can't click past when they're on TV. No matter how far into the film, he will sit back and enjoy the remainder of the show. Top Gun is toward the very top of that list. He has watched it at least a thousand times since it was released in 1986.
I'm not far behind that number, and like many, I can recite the script word by word.
Our kids have both seen the movie numerous times…we indoctrinated them at a very early age.
One of my SonShine's most beloved and well-worn t-shirts reads "Maverick/Goose '16: Bring Back That Loving Feeling."
It was his campaign wish for the 2016 presidential election when he was turning eighteen and cast his first ballot.
Suffice it to say, we are fans.
Devout fans.
Critical fans.
While quite excited to see the sequel, we were absolutely determined to reserve judgement on this new film.
Who Doesn't Love a Love Story?
 Top Gun: Maverick exceeded our expectations.
But why?
Here's my theory: at its core, Top Gun and Top Gun: Maverick are love stories. 
Yes, there's a thread of romance in both films — every great story must have a romantic element (at least in my opinion) — but there is so much more to the love story in these movies than physical attraction and magnetic chemistry between two characters.
We love Top Gun because we love Maverick.
We love Maverick and feel invested in his journey because he loves deeply, completely.
He loves his parents. Remember in the first film when he tells the story of his mom listening to (Sittin' on) The Dock of the Bay by Otis Redding on repeat? How hearing the song playing at Charlie's strikes a chord? And how his loyalty and faith in his father is his constant companion? Those are testaments of love.
He loves his country. Maverick likes to push the envelope, and he's not always the best at following rules to the letter of the law, but he is a patriot. He's driven to be the best fighter pilot he can be to serve a country that he loves. His love for country never falters, even when that call to duty creates immense pain and anguish.
Captain Pete "Maverick" Mitchell loves his job. We've all heard the saying that if you love what you do, you'll never work a day in your life. Who among us doesn't desire a lifestyle, a career, and a routine that feeds our essential needs, that fuels our passions? We love that Maverick loves what he does, and we love that he is so, so good at it. That's a lot of love.
And last but certainly not least, Maverick loves his people. I don't mean his race, his gender, nor his ethnicity. His people isn't a reference to a demographic; it's an acknowledgment of the most important people in one's life, the people who make up the inner-most circle of family. It is the people we hurt for, the people we pray for, the people we yearn for, and the people we'd die for. Maverick would've traded places with every person he's lost. Gladly. We respect that — we love that — about Pete Mitchell.
Love is the key.
Whether depicted in an action movie, written on the pages of a wholesome and heartfelt, small-town romance novel, or experienced in the real world, life is about love.
It's what makes us smile, what makes us cry, what makes us walk out of the movie theater feeling giddy and fulfilled.
Again, I ask, who doesn't love a love story?
❤️🤍💙
With love and hugs,
Become A Green Hills Insider
Sign up to gain access to our exclusive Green Hills Facebook group and email newsletter.
Interact with other Green Hills residents, engage in fun activities, join town hall meetings, and be the first to learn secrets about the Green Hills community!