Welcome to Green Hills T-Shirt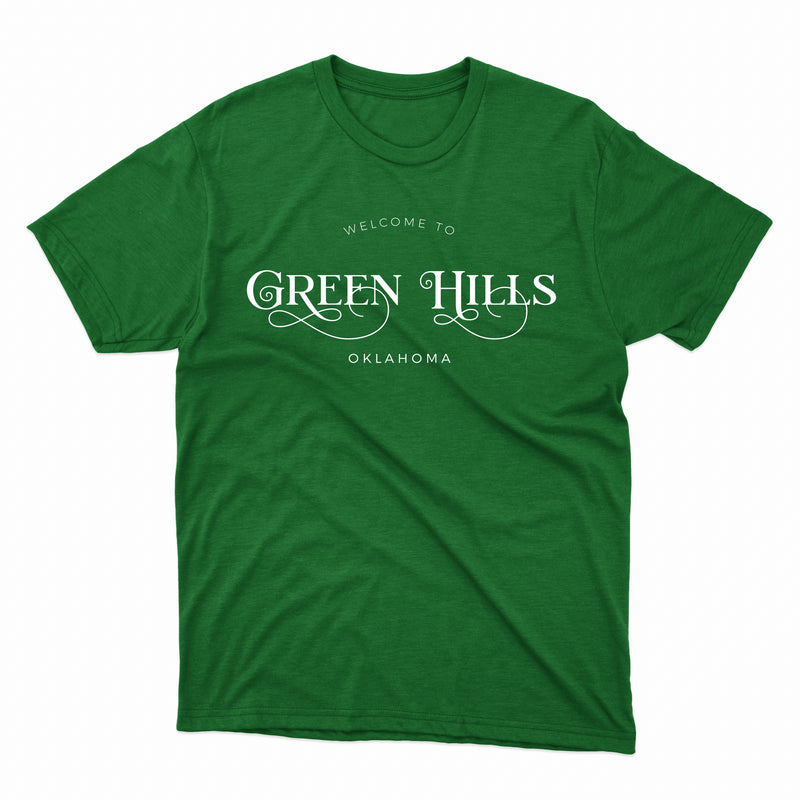 Welcome to Green Hills T-Shirt
Welcome to Green Hills, a fictitious small town that could exist just off the Indian Nation Turnpike in southeast Oklahoma.
Hidden among lush green trees, Green Hills has mystical qualities of unity and encouragement. The community is designed and depicted how I wish the world would be: uplifting, supportive, helpful, and kind.
There are all types of people in Green Hills, with all types of backgrounds and careers, and I look forward to sharing each of their stories for as long as the words keep flowing.
     - Virginia'dele Smith, Book 0: My Manifesto
In real life we can't live in Green Hills, but we might just live in the t-shirt!
This first product in the Green Hills merchandise line is incredibly soft and unimaginably comfortable.
Bella + Canvas Tri Blend tee is 3.8 ounces and 50/25/25 polyester, pre-shrunk combed ringspun cotton, and rayon. The color is a vibrant grass green with "Welcome to Green Hills Oklahoma" in white text.
Unisex sizes XS through 3XL.
Become A Green Hills Insider
Sign up to gain access to our exclusive Green Hills Facebook group and email newsletter.
Interact with other Green Hills residents, engage in fun activities, join town hall meetings, and be the first to learn secrets about the Green Hills community!